Hey Tyler,
Is it possible to provide my customer not only with a draft-Link, but additionally also with a "Publish-Live-Link", to make sure the customer can not only perform step A but also Step B:
A: Change content inside Drafts
B: Publish the content at a later point in time
For Step B I might provide my Customer with my personal Admin-Login Credentials, but as that login also allows to edit a multitude of other projects on other domains, I would not want to do so.
Any method for my customer to push their Draft-Content Live themselves would be appreciated. Maybe I am missing something here. Not sure.
You may take a look at the way I currently manage my customer with the draft-Link: See below for a screenshot.
You may look at my Draft-Login on:
https://skysails.info/marine_performance/cts-product.html
To open the Login-Draft pls. find the hidden Link (positioned fixed) in the very left bottom corner of the screen .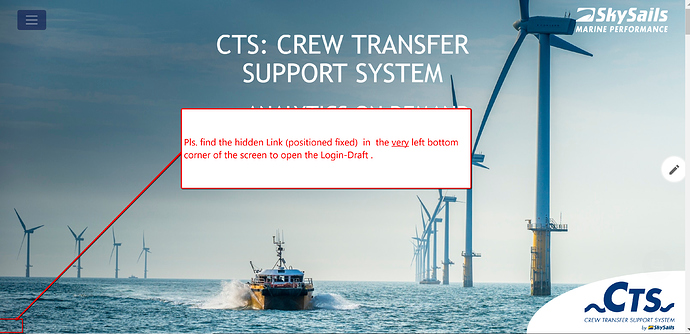 The HIDDEN LINK in the left bottom corner will bring up a Login-Layer with the Draft-URL inside of it. My customers can easily log into their draft version that way.
I would like my customers to be able to push draft-content themselves (to Live-version).
Any Idea how I may go about ?