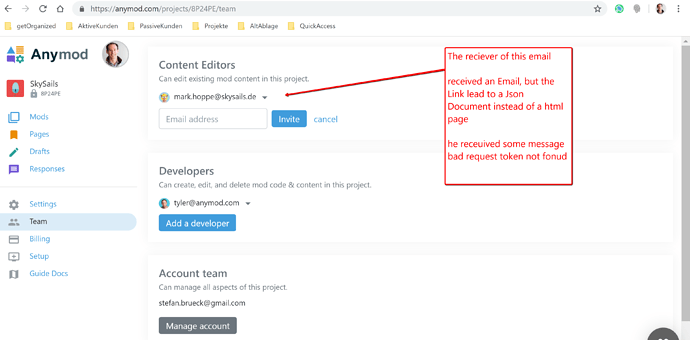 https://anymod.com/projects/8P24PE/dashboard
https://anymod.com/projects/8P24PE/team
mark.hoppe@skysails.de received an email after I filled in that mailadress. But I received nothing, so I did not perfectly well knew what to expect.
Mark.Hoppe (the recipient of the email invitation) did click on a link in the email, but was let to some json file (he reported). We tried again together while we were on the phone. That time he managed to open a html page, but he was not sure what he was supposed to do there.
I expected he would find an opportunity there to assign himself with a passoword, so that he may in the future be able to log into his skysails account as a "content creator. But reportedly no such thing happened.
We were both confused and left the plattform. We decided that I will write a support ticket to you and ask you.
Is ist correct that Mark.hoppe should create a unique password and afterwards be able to login using his email plus that password?
What are we to expect after we receive the anymod Email?
PS: I never invided myself, so I do not know what that form looks like. And I do not know what the process is supposed to be like.
PPS: I also did the same with another project. That Customer was a bit special (79 years old and sort of grumpy) so I thought It was his fault he did not manage to create his account) . But this time, with Mark.Hoppe, it should work out in the end, hopefully ; )
Best Stefan
No Day without a ticket