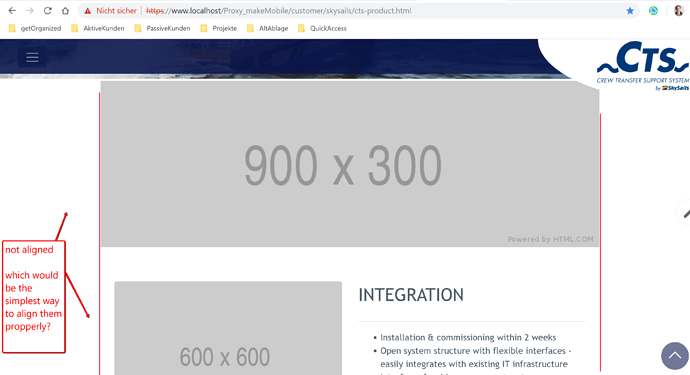 Tyler: I tried to apply the same bootstrap-HTML-markup around the single image you will find inside of anymod-baabbr.
Next thing I felt I needed to do was to apply bootstrap to the mod, but still the Image would not align similarly to the below content inside of the neighboring mod called anymod-lllanb (below), see screenshot. Then I simply lost my nerves, because this should not be supposed to take so much time, as all I wanted to do is to align a simple image. I would be way better of if I worked without anymod and integrated to image manually. It must be possible to get this done with more ease. I guess I am missing something here.
Again, the two MODs are anymod-baabbr and anymod-lllanb
I would really like to learn more about how I may "REDUCE THE AMOUNT OF WORK" I constantly am faced with when it comes to aligning several mods to one another themewise!
Any support from you will be highly appreciated !!
I hope it will not be nessesary to manually copy the rules from anymod-lllanb over to my anymod-baabbr manually, merely to aling the styling. (I meant the Rules which where appiled to the bootstrap classes inside of the html markup in anymod-lllanb )
see further documetation inside of: https://anymod.com/mod/baabbr
Of cause writing such a ticket takes way more time than solving the issue, but this is a core issue of repeating kind. So I am glad to get advice
best regards
Stefan